Sales Call/Text:




919-870-0344

Karaoke Software for Everyone
Including Singers & Hosts
Vocal Removal Tools


The Only Fully Integrated ALL-IN-ONE Karaoke Software
for
Karaoke Hosts and Professional Singers
Video Hoster is Easy to Use because you recognize the controls, and discover they are comfortable, fast, and some features fully automated... freeing you for more important matters.

Every Show Becomes a Dream, transforming you into a relaxed Host enjoying and encouraging your singers and joking with your audience. Easily customize how you use Hoster, something all MTU software allows since 1977.
I now enjoy watching my own shows instead of working. Every comment I get is awesome. And I get paid for this! Saddle Tramp, UK

Full Featured Automatic Singers Rotation - This will allow you to control your singers and keep track of who's turn it is, this will be an option you can turn on or off so you are not forced to use it!
Create Printable or Digital Songbooks with everything users have requested since 2002.

INCLUDED FREE - Other programs charge you up to $50 for this feature.

CDG Disc Importer polished since 1996 with UltraClean™ technology for better-than-new lyrics importing from CDG capable DVD drives (try the demo against ANY competitor).

INCLUDED FREE - Other programs charge you up to $50 for this feature.




Hoster's CDG error correction is absolutely the best. I scratched up a CDG disc and Hoster imported the tracks with no lyric glitches. Dale Douglass

Edit Song Files (File Manager) to change Titles, Artists, etc., and remove start-end blank audio for high energy shows with no "dead air" silence.
Remote Request/Digital Songbooks - This feature integrates SongBookDB into hoster to allow your singers to look up your current songbook on any cell phone or tablet and send you the request without using a paper slip! Now you ask what is SongBookDB, check it out here.
Venue Selection - This will allow you to setup Venues that you do shows at. This will allow assigning each singer to a specific Venue.
Ever selected the Wrong Song? Your singer is standing there ready to sing, the song is not the correct version. With Video Hoster you can just Right click this song in the Playlist, Click Same Title, Find and replace the song almost instantly with the correct version! No longer do you have to manually search for this song again, we do it all for you!
Touch Screen support allows all functions without a keyboard or mouse! Click here for our preloaded Touch Screen Karaoke Ultrabook systems!
Slideshow Select a folder of pictures to playback with any audio file, great for Weddings or Birthdays or displaying singers from Past Shows!
Sync Adjust Lots of Songs are out of Sync, due to the timing done by the manufacturer. Now in Video Hoster on these songs that are out of Sync, you can adjust this using Edit Songs, then save it. Once this is done for a song, every time in the future it is played in Video Hoster, it will now play in Sync!
Play Audio, Karaoke and Music Videos The only Program you need is Video Hoster to play all your entertainment formats!
Playlist Statistics Have you ever wanted to know which singer has sung the most songs? Now you will know that, including many more facts from your show History! Such as the most played artists, most played songs, sort by the date ranges, singer who has sung the most songs, etc...

Countdown Timer for Playing Song - This allows you to see the amount of itme left in the song, on the Singers/Audience's monitor so you know how long you have till that song is over, giving you the freedom to mingle with the audience.
Display Singers name and Up Next singer in the Marquee - This allows you to not need to turn on the Singers Name Display anymore, but you can now show the Singers name/song title and also the Up Next singer/song in the scrolling marquee.
8 Ways to Instantly Find and add songs into a Playlist in any order using a flexible multi-field search, and adding singers favorite songs.
Dual Display with Quad Views shows you what the singer sees on a second display. The four views automatically change as Karaoke, Audio or Video songs play or during an Intermission break. The automated Show Display entertains your singers and audience, and frees you to enjoy and mix with them.
99 Audio & Video Instabuttons with your titles and colors play when you click any of them. Audio ones mix with the playing song, while videos wait until Karaoke lyrics finish.
Automated Background Audio Player prevents "dead air" between songs, fading in and back out with the next song.
Step-by-Step Manual with over 200 screen images that instantly show details when you click a button, field, etc. (see the Demo with Manual).
Unique Crash Recovery allows you to relax... free to interact with your people. If your computer ever crashes just like your CDG Player can, run Hoster in seconds and nothing is lost. This constantly operates in background, protecting your show changes.
Song & Singer Databases allow you to instantly find the songs you want, and please your singers when they return and you have all songs they perform.
Hard Drive File Cataloging of your MP3+G, ZIP and other format songs into the Songs Database to instantly find them. A second method gives you flexibility to identify each song exactly as you want.
Display Singers name and Up Next singer in the Marquee This allows you to not need to turn on the Singers Name Display anymore, but you can now show the Singers name/song title and also the Up Next singer/song in the scrolling marquee.
Full Featured Auto-Rotation Playlists to run your shows, not a dual deck that requires twice the work. It plays Karaoke-Audio-Video songs in any order, fading from one to the next if enabled:

Video Hoster® Karaoke Software
With Automated Singers Rotation and SongbookDB Integration!
Karaoke is an incredible way to have fun and encourage others. Respectfully hosted Karaoke shows lift the spirit. Before 1999, thousands of professional singers and Karaoke Hosts worldwide encouraged MTU to create the perfect Karaoke Player Software to enable them to do the best shows in town. After 43 years of pioneering audio technology, we took their challenge! We developed Video Hoster, shipping since 2002. If you respect yourself and your Singers then MTU's Video Hoster is your ideal answer.
As A Karaoke Show Host, Video Hoster Karaoke Software will help you take your shows digital and excel to a whole new level. Add audio and video songs for breaks, and spice up your shows with the most unique Karaoke Show Display available!
WOW! MTU has got to be the best karaoke software company out there! Several months ago I had a conversation with one of the Techs at MTU about a slight issue I was having with a Hoster feature. The problem was solved immediately AND I had a fantastic exchange of ideas and 'wish list' items being prepared for us 'end users'. I couldn't believe they were willing to take so much time with a customer. It had the feel of a peer-to-peer level meeting. I never felt like I was being talked down to or that I did not have a genuine need. Let's fast forward to August 2015…. I upgraded to Hoster 5.4 last night… Dreams Come True! I now have a very user friendly and a straight forward functional singer rotation feature. I had a smooth transaction with the Website and flawless download/upgrade. I never get nervous when downloading the updates and upgrades from MTU. These guys really do their homework. This software must go thru some rigorous bench-testing, a mark of high quality, for sure! Thanks MTU! Wade Winters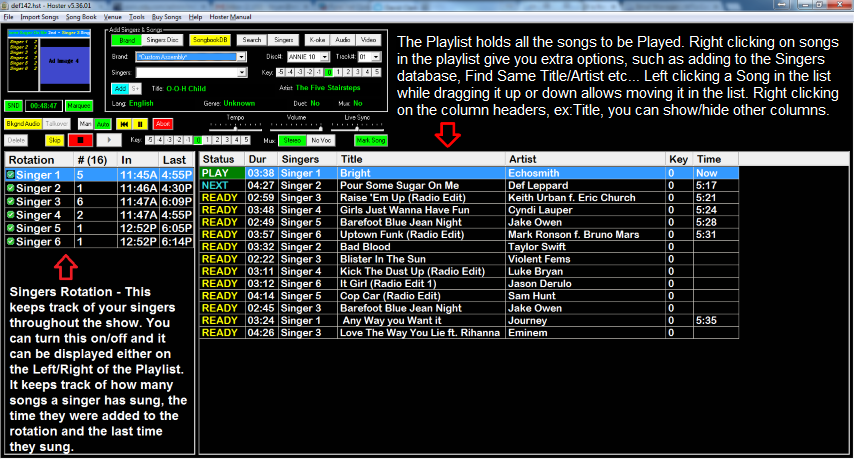 Click to Enlarge




This is the MTU Request Plugin for SongbookDB.


Click to Enlarge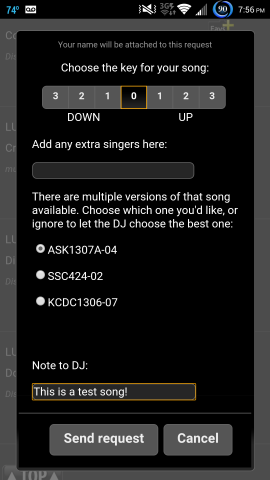 Cell phone request slip, customers will see on their phone app.


Click to Enlarge

As A Professional Singer you can pre-create Playlists with a sequences of songs to perform, add music videos or any audio file to play during your break, then more sequence of songs and breaks... for any lenth of your show.
As a professional singer for over 20 years, I cannot get over how Hoster has changed my gigs. I increased my song list over 50 times what I sang a year ago. I now bring half the hardware and have thousands more songs at my finger tips. Walter Morgan
With Video Hoster, the best karaoke software, plus the original design company, and the MTU.Community of knowledgeable peers to help you attain your best, your shows will be the hottest in town!
Risk Free! If our software doesn't meet your needs, just ask, and we'll refund your software payment. Thank you for trusting us, as hundreds of thousands of satisfied customers have since 1977.


Bryan Cox, President
Last year, right after the release of Hoster 5.35, I made a comment right here on Facebook that I felt that the techs at MTU had made Hoster as perfect as it could ever get, well, I'm happy to say that my vision was obscured and with this release (5.40.01), your techs have hit the "PINNACLE OF PERFECTION". I'm not sure how these innovations are accomplished, but glad they are still coming. Thanks guys for making my job less time consuming while making it even more pleasurable. Dave Heiderscheit

Hey friends, if you haven't upgraded yet to the new Hoster 540.01 you are missing the boat! The new features make this program the top dog! This is really the cat's meow!!! Kudos to the guys at MTU! WaltR

KUDDOS TO MTU! I have been a Hoster user for 10 years and couldn't imagine using anything else. I have seen the other hosting softwares that are out there and they aren't as user friendly and they don't look as nice as Hoster. Hoster also has phenomenal customer support! This company actually listens to it's users and makes the changes KJ's want to see. You can run your whole show with ease and never have to worry about anything at all! We loaded our DJ music and music videos into Hoster so we can do it all from one screen. We love the new SongbookDB! We have used it at every show and it has not failed us even once!. Our singers love the fact that they don't have to leave their seat except to get up and sing! If you are a Hoster user, get to know the workings of the software and you will NEVER want to use anything else! If you aren't using it, it is time for you to make the switch to Hoster! Thanks MTU for being AWESOME! Tish Jones-Hicks TNA Karaoke Wake Village, Texas

Using Hoster is the best karaoke experience I have ever had. I no longer have to lug around large cases of discs. Bob Cox, PA

WOW! I am a retired software engineer so I know good code. Hoster is great code, what a great piece of software! Gary Cochrell, AZ

My shows are so easy now and I am able to give more value to my customers because of Hoster. George Payne

Last night was my first gig with Hoster and I'm absolutely amazed at how smooth and "FLAWLESS" the rotations ran! Flipper, OR

Hoster does not crash. It is such a different way to serve my customers. I love my side job more than ever. Ricardo Olmo, PR

Even my wife has started helping run the shows. Hoster is so easy it practically runs itself. John Cline

I consider MTU staff to be uber-excellent as far as making Hoster easy to navigate, and bug-less.Gary Dunsford, AL

I checked out competitors and there wasn't anything that compared. I like Hoster's features, upgrades and support. DC1979

I've been a KJ since 1995 and have seen a lot of changes. MTU has some cracking programs, but Hoster is Platinum! Terry Wright, UK

Hoster now allows us to crank out 20 songs an hour and our customers couldn't be happier. Gary Cochrell, AZ

Hoster doesn't have the popping noises like other programs when adding songs to the Playlist while a song is playing. Marion
Read On For More Facts...
Full Featured Auto-Rotation Playlists

Playlists hold your Karaoke, Audio and Video songs in any play order, organizing and running your show rotations. Create and save any number of them on the hard drive for venues, weddings, etc. Use one and select to auto delete or keep played songs, or create them for a language (English, Spanish, etc.), or genre (Country Western, etc.).
Full Show Automation for auto-rotate ignoring songs that have played and missing singers that you skip.
Automatic Fade audio down as background audio fades up between songs, or to fade out an early terminated song as the next fades in to avoid "dead air" silence.
Add Songs & Singers to the Playlist by 8 methods, and optionally save them in the Singers Database.
Drag and Drop Songs to change their rotation order any time.
Allow Singers to do several songs in a turn with few singers, or one song per turn.
Song & Singer Status shows Ready, Playing, Played, Skipped.
Play Controls: Play, Stop, Pause-Resume, Restart, Delete, Skip, adjust Volume, Remove Silence, Mux in/out.
AutoPlay or Manual Cueing can change instantly. Add an "A-Stop" track to halt AutoPlay for announcements. The Talkover button drops the background audio level down and back up when done.
Change Key on-the-fly in half-note steps or presets for regular singers favorites.
Skip Absent Singers to keep their position, but losing their turn for the current Rotation.

Add On-The-Fly Notes while playing to later change the Databases.
Remove or Keep Songs after they play.
Append Playlists of saved dance routines, or multiple Playlists to perform with interlude audio/video between performances.
Play Multiplex Songs as stereo, or play only music or switch in/out to play vocals with the music to help the singer.
Adjust Sync Live while playing CD+G songs with the lyrics out of sync to the music.
Show/Hide any Column in the Playlist by Right Clicking on any column such as Title you can check/uncheck the columns to be shown or not.
Unique Crash Recovery allows your show to continue when, just like your CDG Player, Hoster or your computer crashes. Playlist changes always save to the hard drive when made, ready when Hoster restarts. The open Playlist automatically re-opens. Tracks from singers discs are able to play. Your show continues! The most you lose is 3-5 seconds to restart Hoster, or the computer restart time. It just doesn't get any safer!

CDG Disc Import/Rip & Catalog

Import Karaoke CD+G Disc to your hard drive using most CD/DVD drives. Import as KMA, MP3+G or zip files within Video Hoster®
Maximum Single-Pass Ripping Speed to rip all or only tracks you want in minutes with a fast drive.
UltraClean™ Lyrics imports Karaoke CD+G lyrics/graphics and music to the hard drive for the best quality in the industry, especially on scratched and multi-session discs.
Selectable Folder to store on any drive:/folder/sub-folder on any hard drive, or just use the default folder.
Auto-Name by On-Line Database identifies the Brand & DiscID and if found in the database fills in Titles & Artists.
Auto-Name by Built-In Database by manually selecting the Brand & DiscID and if found in this database fills in track Titles & Artists (over 384,000 track definitions upgraded monthly with Hoster Annual Upgrade).
Manually Enter Titles & Artists for new discs missing from both databases. As you type a few characters the lists scroll to the matching name, or enter a full new name.

Assign Other Parameters used to find special requests; Language, Genre, Duet or Multiplex.
Auto-Assign Unique BookID Numbers or custom assign them with your method. These print in the Songbooks for singers to give you to quickly add to the Playlist.
Preserves Multiplex Songs so you can choose to play the music or music+vocals.
Imports Hoster Ready Files as WMA compressed KMA files with audio, lyrics and song parameters in one file. Store twice as many as MP3+G at the same quality. MTU Songverter converts KMA to MP3+G, ZIP or other formats.
Selectable WMA/MP3 Compression: 320 Kb, 256 Kb, 192 Kb, 160 Kb, 128 Kb or 96 Kb.

Creates Songs & Singers Databases

Installing Hoster also installs the Microsoft® Access Database Manager, able to manage millions of songs and multiple databases. When Hoster first runs it creates two databases to hold your songs and singers.

Songs Database

Catalogs Karaoke, Audio and Video files from importing CDG Disc tracks, or Hard Drive files already on your drive(s).
Cataloged Fields include: Title, Artist, Brand, DiscID, Track# (Title is the only required field). You can also identify Language, Genre, Duet, and Mux to search or print in Songbooks. You can add these fields when you import or index the files, or edit them later.
Type a Few Characters to find any songs in seconds to add to your Playlist.
Auto-assign a Unique BookID Number to each song, or use your own custom number scheme.
Review your disc inventory, instantly showing discs you have.
Edit fields in cataloged songs whenever you want.

Singers Database

Catalog Singers to instantly find them by typing a few characters into the field that scrolls the list.
Catalog Favorite Songs with an unlimited number for each singer, including key changes.
Used to Instantly Add Singers when they appear at your show, adding songs for the night or new ones they request.
Maintain Singers & Songs by searching for when they last performed, deleting those who no longer come.
Export a List of all singers and their songs to print.
Refresh Database to apply any edits to Titles or other fields.
Auto-Saves Backup to allow rebuilding the database if ever needed.
Split Record if you accidentally combine two singers with the same name.

Catalog Hard Drive Files in Songs Database - Two Methods

Build Songs Database Screen

Streamlined Data Mangement You can now easily manage all the files stored in your database.
Easily delete/reimport songs When you remove a folder from this list, you can choose to delete the kmh files also. This makes it simple for you to reimport incorrectly named files.
Index Hoster KMH and KMA This dialog is used to index all your current kma/kmh files. It was redesigned to make it much easier!

Index Hard Drive Files Screen

Maximum Flexibility to identify and catalog in the Songs Database, the Title, Artist, Brand, DiscID and Track# found in the filename. Nine selectable common formats instantly match a selected filename, or define the field/separator order in filenames to catalog multiple different formats. Examples:


Title - Artist - BrandDiscID-Track.zip
BrandDiscID-Track_-_Artist_-_Title.bin

Hold-My-Hand™ Instructions guide you step-by-step how to use the full flexibility of this screen.
Create KMA Files from WAV, WAV+G and BIN files by WMA compressing the audio to take 1/10th the space, and save the parameters identifying each song.
Create KMH Files to catalog all supported Karaoke, Audio and Video formats (except WAV, WAV+G, BIN), storing the parameters identifying each song.
Catalogs One File Type at a time.
Auto-Assign Unique BookIDs to the selected type, or use your custom numbering scheme.
Creates KMH Files with Karaoke, Audio and Video song parameters. These 256 byte files save in the same folder with the songs they catalog.
Auto-Assign Unique BookIDs indexing all types at once, or each type separately, or custom assign using your method.
Reads MP3+G/ZIP/WMA+g Header Title and Artist are read from the tags. If Title is not found, the Define Field order selected is used.
Reads MP3/WMA Header Title and Artist are read from the tags. Title and Artist. If Title is not found, the Define Field order selected is used.
Catalog 24 Song Types one or multiple at a time:


Karaoke: MP3+G, WMA+G (Zip or not)
Audio: MP3, WMA
Video: MP4, FLV, AMR, AVI, DAT, DVIX, M1V, M2V, M4V, MOV, MPG, MPEG, QT, WMV, VOB, 3GP
Note: WAV, WAV+G and BIN files can only catalog in the Index Hard Drive Files screen.

Find & Add Songs to Play by 8 Methods

BookID Button allows entering the number that a singer gives you from the Songs Database.
Brand Button allows entering Brand-DiscID-Track when requested by a singer.
Search Button dialog can stay open to find any song. Search on Title, Artist, BookID, Brand, DiscID, Language, Genre, Duet, or Multiplex fields; selecting Karaoke, Audio or Video songs. Type a few letters to search and the found songs appear.

Singer Disc Button to rip a track from their Disc or Flash Drive into the Playlist, saved as temp files (to give their Disc/Flash Drive back), auto-deleting after playing to be legal.
K-oke Button adds songs on the hard drive not cataloged in the Songs Database; KMA, ZIP, MP3+G, WMA+G, WAV+G, or BIN format.
Audio Button adds songs on the hard drive not in the Songs Database; MP3, WMA and WAV format.
Video Button songs on the hard drive not in the Songs Database; MP4, FLV, AMR, AVI, DAT, DVIX, M1V, M2V, M4V, MOV, MPG, MPEG, QT, WMV, VOB, 3GP format.

Snazzy Dual Displays With Automated Quad View

When dual-display is not available your Preview Display and Playlist appears when not playing, and the Show Display while playing.

Preview Display in the Hoster screen shows you what the singer sees.

Show Display is a separate display for the singer and audience that moves to a second monitor when available, selectable as a window or full screen.

Click for bigger images

Marquee Messages (at top above) scroll left, right, up, down or stationary; can set the text and background colors or image; show/hide each message; adjust the scroll speed. Add the Current Singer/Song Title and the Upcoming singer/song name in the scrolling marquee! (see video below)
Singers Names Display (at bottom above) shows next singers from the show rotation. Select 1 to 30 singers, song name, time to be on stage, colors, size, bold-italic, font; shown above or below the Lyrics while performing, or only in Audio/Intermission views between performances. It auto-updates whenever songs finish and new singers are added.

Automatic Quad View changes the Show Display based on what file type is playing:



Karaoke Songs with lyrics.
Audio Songs with selectable background.
Video Songs with/without lyrics.
Intermission Times with background music and selectable ad images, or Windows Visualization moving image.

Intermission Slideshow Including Audio
Slideshow with Audio allows you to select a folder with pictures in it, once set the pictures will display rotating through the images in the folder! This works with either background audio playing or any audio song in the playlist.
Upsell your Show for Wedding's/Birthdays and any other event by using this new function that will allow you to easily create a slideshow to any audio file!
Click Play on the Video below for a demo of how this feature looks in your show.

99 Customized Audio/Video InstaButtons™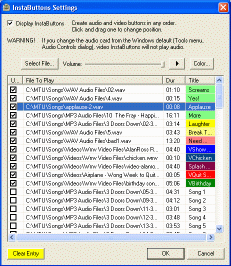 Creating Instabuttons
Enable/Disable Instabuttons to show or hide all, or click individual Use checkboxes to show/hide them individually.
Assign Audio or Video File Types intermixed in any order.
Customize Each Button with your title and color to easily find.
Play Volume is settable for each audio Instabutton.
Drag-n-Drop a Row auto-arranges the buttons into the new order.
Using Instabuttons
Click One to Play in AutoPlay or Manual Cueing modes.
Stop Playing an Instabutton by clicking another, or click the Stop button at the left.
Instabuttons Auto-Wrap onto new lines when you enable more, or resize Hoster's screen.


Generate Playlist Reports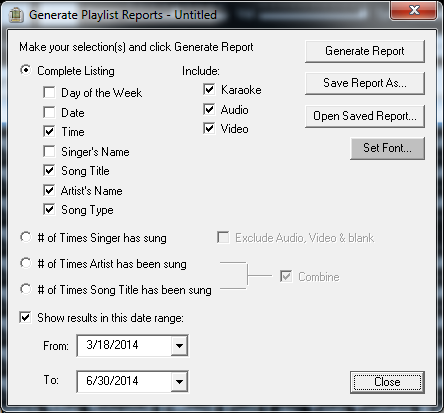 Generate Complete Listing to show all information stored in your Hoster Playlist.csv file. This allows you to have all create a report with any of the selected options.
# of Times a Singer has Sung will create a report on your top singers, and how many times they have sung.
# of Times Artist has been sung creates a report showing you the most sung artists are your shows.
# of times a Song Title has been sung creates a report showing the top songs sung as your shows, clicking combine will also list the Artist names in the report.
Show Results in this Date Range this allows you to manipulate the data between a cetain date range. So you could see what the top singers are for that week, or the most sung titles for that time period.

Print any Playlist Have you ever needed to have a hard copy of your playist? Well now you can do this! We take all the hard work out of it, and all you need to do is click File Menu\Print Playlist we then open a copy of the playlist in your default browser, which from here you can Print it to any attached printer.
Set List This woudl be a great feature for any Professional singer, to use as their set list showing the songs they plan on singing and in what order.


Flexible Songbook Creator

Prepare Instantly using your Songs Database contents, NOT an optional "add-on" module.
Customize Appearance to make it your Karaoke Songbook.
By Title, By Artist, or My Discs (identify Inventory for new purchase).
Order Artist Names by "Lastname, Firstname" or "Firstname Lastname".
Select "The" or "A" to appear at the start, or end of Titles and Artists fields.
Select What to Print in what order: Title, Artist, BookID, Brand, DiscID, Track, Language, Genre, Duet, and Mux.
Select Last Field on each line to be BookID, DiscID-Track, or None.
Select What to Include: Full Songbook including new release pages; New release pages only; Range of BookIDs; Duets, Multiplex songs, Languages or Genres.
Unique Exclude List to choose song parameters not to include for printing (very flexible).
Last Printed Songbook is remembered so you can create new release pages as you import new discs to keep current without reprinting.


Click for bigger image

Hide in Songbooks allows selecting duplicate songs to not print, yet still in the Songs Database to add to the Playlist.
Custom Title to identify your Songbook, or different layouts, venues, etc.
Minimizes Page Count to reduce printing cost.
1, 2 or 3 Columns Format that you prefer, and to reduce pages.
Select Viewer Program to instantly see your created Songbook before printing.
Creates Rich Text Format (RTF) Books printable in Wordpad, Word, Open Office, etc.

KMA/KMH Headers & Songs Database change automatically when any edit is made.
Single or Multiple Views allow changing more fields on one song, or common fields on multiple.
Find Any Song using the powerful search on the first character, or a string within the selected field(s).
Select Fields to Search with instant search on BookID, Title, Artist; slower search for other fields.
Change Song Parameters: Brand, Title, Artist, lyrics Language, Genre, Duet, Multiplex (music on left, music+vocals on right track), Hide in Songbook (duplicates to not print), BookID Root and Track#.
Create 5 Presets of all parameters you frequently use, clicking two buttons to apply these to one or more files.

Play Selected Song to see the title page and adjust the remove silence points when lyrics start before the music starts or continue after it ends.
Play Next button starts playing the song below the current one playing.
Remove Silence to run high energy shows, automatically detecting the start and end of the audio to skip the Title and Credit page silence on Karaoke songs. Process one or more selected files, or all cataloged files to be processed. It even allows you to adjust the start or end on songs with lyrics starting before or ending after the music.
Delete Songs from the Songs Database and KMA and KMH files on the hard drive, but master .mp3, .cdg, .wma file(s) remain on the hard drive.

Background Audio Player With Automated Talkover

Unlike an MP3 player used along with Hoster this is fully automated, fading up and down as Playlist songs start or end.

Background Player Controls

Bkgnd Audio Button in the Hoster screen displays a screen controlling songs that play when the Playlist is silent.
On/Off Buttons instantly turn the BA Player on or off.
Playlist Support Use playlists from Itunes, Windows Media Player, or create your own!
Browse... Button selects a folder with your songs to play.
Play Controls: Play, Pause, Stop, Play next song. Select a song in the list to play out of sequence.
Selectable Fade In/Out durations from 0.5 to 5.0 seconds.
Background Volume Slider to set the playing amplitude.
Search Allows you to search the list to find a specific song
Random Play When this is checked, it will randomly play through the songs in the folder.
MP3/WMA Tag's If the audio files have the Title and Artist in the mp3/wma tags, we will use that. This makes your list much cleaner.

Talkover Controls

Talkover Button in the Hoster screen drops the background audio to your adjusted level to talk to your audience, then click it off and the audio fades up.
Talkover Volume Slider to set the amplitude when the Talkover button is clicked, fading the audio down in a quarter second, and back up when you click Talkover off.

Video Hoster Installs any number of times on 2 computers you own, Quad installs on 4, Hoster One on 1.
Transparent Security allows honest users to use Hoster as they want. However, theft is blocked.

Note:

When requested, we issue a refund only after Hoster is removed from all computers while on-line to un-register in your MTU account.
Installation Requires an Internet Connection over dial-up, DSL or Cable to register, but it is not required to run (privacy policy).
Read How to Remove and install Hoster on another computer any time, without needing MTU.
If your computer is running, Video Hoster is running!
Computer Requirements
Video Hoster can also be ordered already installed in a Touch Screen Karaoke Ultrabook™, both certified to work for Karaoke-Audio-Video shows using supported formats. Windows upgrades, device drivers and all ordered MTU software are installed and tested before shipping. You can be confident your MTU Laptop will meet your karaoke needs and give you the best Video Hoster Experience!
MTU Recommends using Intel I7 (BEST - Any Amount of Songs), I5 (BETTER - Up to 200k Songs) or I3 (OK - Up to 20k Songs) processor for your Professional Audio setup! Any other processors can cause Audio glitch or distort when running your show.


Video Hoster runs on Windows 10, 8.1 (32/64bit not RT), Windows 7 (32/64-bit), Vista (32/64-bits) with SR1+, or Windows XP (32/64 bits) with SP3+. XP and Vista. The latest Windows Updates need to be installed prior to installing the software.



Apple Use With BootCamp - Deeter on MTU.Community "This weekend I had a party at the house using Hoster on my MacBook Pro running Windows 7 Pro 64 bit installed under BootCamp. I'm thrilled to report that in 6 hours of singing and using the Background Audio function there were no glitches or problems at all."

An MTU or equivalent CD/DVD Recorder to import CDG Karaoke discs to the hard drive. MTU Certified CDG Recorders give the cleanest imported graphics.




IMPORTANT NOTE:

Windows 8.1, 7 and Vista require more processor power. Inexpensive Laptops with slower Celeron or AMD processors have been reported to not play video files correctly, and in some cases the lyrics are not in sync to the music. Run the Hoster Demo on your computer if you have any questions.

The computer must be connected to the Internet to install Video Hoster, but not required to run it.