Now you can create perfect Audio CD pre-production masters with ease with MicroCD and a Microeditor digital audio workstation. You will create professional Audio CDs every time because you can hear exactly the way the final Audio CD master will play; no guessing!
Beginners and skilled professionals alike create their first audio CD master in minutes because MicroCD does all the tech work for you. Click here and read how users since 1992 tell how easy it is to use.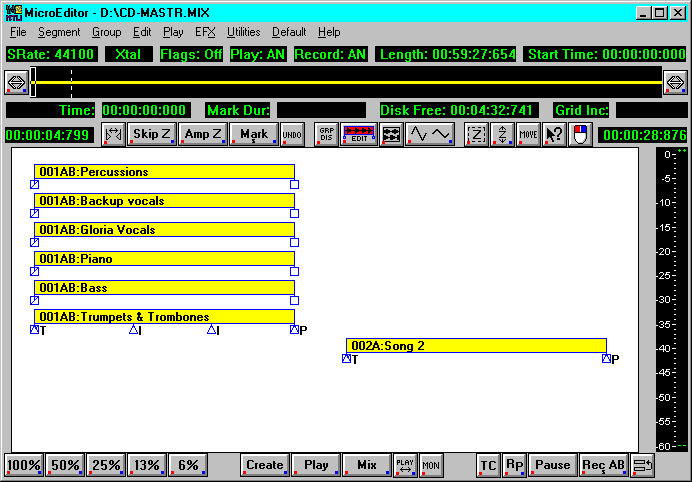 You simply create a Microeditor project with master 16-bit and/or 24-bit audio segments for each track. Where they are placed determines when they play on the CD, and you can instantly move them. Adjusting the space between them sets the silence gaps for the audio CD. Overlapping them even allows crossfading from one to the next. Note: MicroCD requires Microeditor to operate.
Segments can either be premixed songs, or bring in multiple segments and overlap to mix your masters right in the project! You can instantly adjust the gain of each segment in the mix, easier than on a console. The image below shows examples for two songs. You can assign segments to groups (001 shown below) to move together as a single song, allowing you to rearrange the playing order.
The required audio CD mastering PQ codes tell the CD-Recorder how to write the audio CD image. In MicroCD and Microsound, these codes are set as 3 graphical flags that move with the segments. The flag name determines which code it is:
| | | |
| --- | --- | --- |
| Flag Name | Type | Description |
| T | Track ID | Track ID codes set where the track ID counter increments with up to 99 on a CD. You can place these anywhere. You can even insert multiple IDs within an audio segment, such as a 30-minute symphony with multiple movements, or a speech with different points you desire to index. |
| P | Pre-countdown | This optional code determines when the track ID counter begins a negative count down (-:03,-:02, -:01) before the next track starts. They belong before a track T-flag, and can even be placed inside a song, not just at the start. The distance it is in front of the following track flag determines the starting countdown value (3 seconds to the left starts at -:03). This does not change the audio or create silence gaps. |
| I | sub-Indexes | These optional codes can be set within a track to set Index IDs within the tracks. However, most CD Players do not show Index IDs. Each track can have up to 98 indices. |
MicroCD Software Screen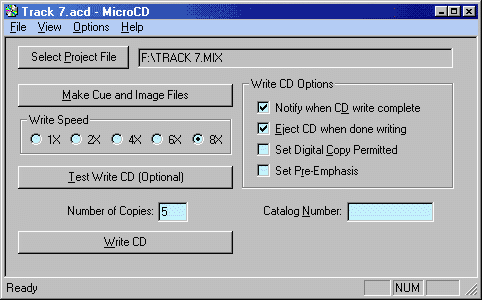 Once you have created the Microeditor project file, open it into MicroCD. Clicking the Make Cue and Image Files button creates these files with the PQ code list and the audio for the Audio CD master. You can select the CD-Recorder writing speed as you desire. The Test Write CD button tests the hardware and software without writing the media. The Write CD button writes the CD as a single session, disk-at-once, standard 16-bit red book Audio CD master. Projects with 24-bit samples automatically dither to 16-bits with sonic perfection. The resulting red book Audio CD master can be used as a pre-production CD master or in any audio CD player that accepts CDR media.